With Muslim Pro, you can now listen to the Quran anytime, anywhere. There are 2 options if you want to listen to the Quran audio from our app:
Streaming: you must be connected to the Internet to listen to the audio recitations and suras. It may take some time to load if your internet connection is slow.
Download for offline listening: Note that for Premium users you may download the entire Quran audio recitation on your phone and listen to the recitations offline.
The entire Quran audio needs to be downloaded when you play a sura for the first time. Note that the download file is more than 400MB and may take a long time to completely download the audio.
To download the audio successfully, please ensure that:
You have at least 500MB of space free on your phone storage

You have a good Internet Connection (using Wifi is strongly suggested)

You have sufficient and enough battery on your phone during the download

You are not connected to a computer with USB (Android only)
Keep your device ON and the app active (running) until the download is complete (iOS)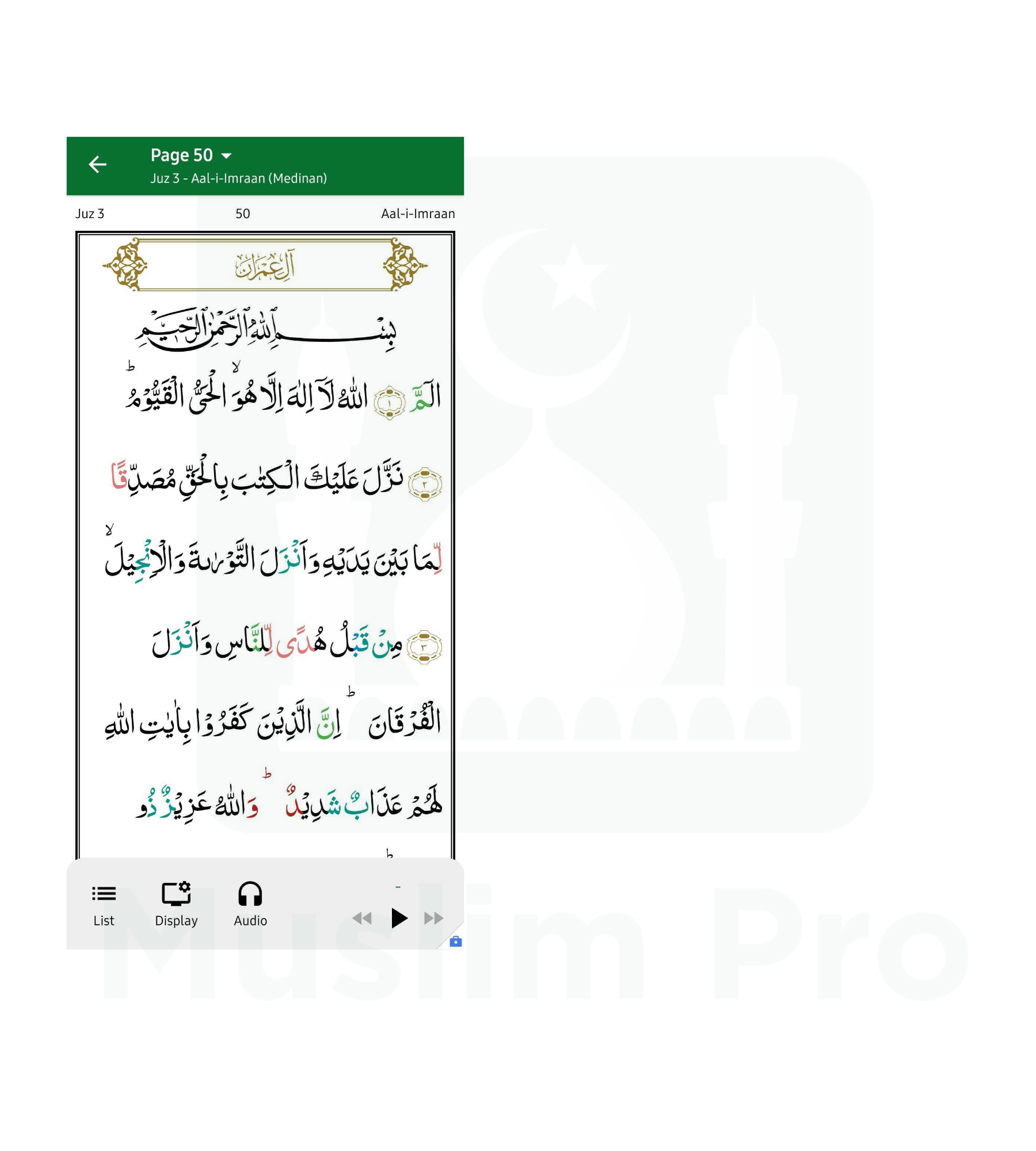 How to download and listen to the Quran audio?
To download and listen to the Quran audio,
1. Go to the [Quran] page.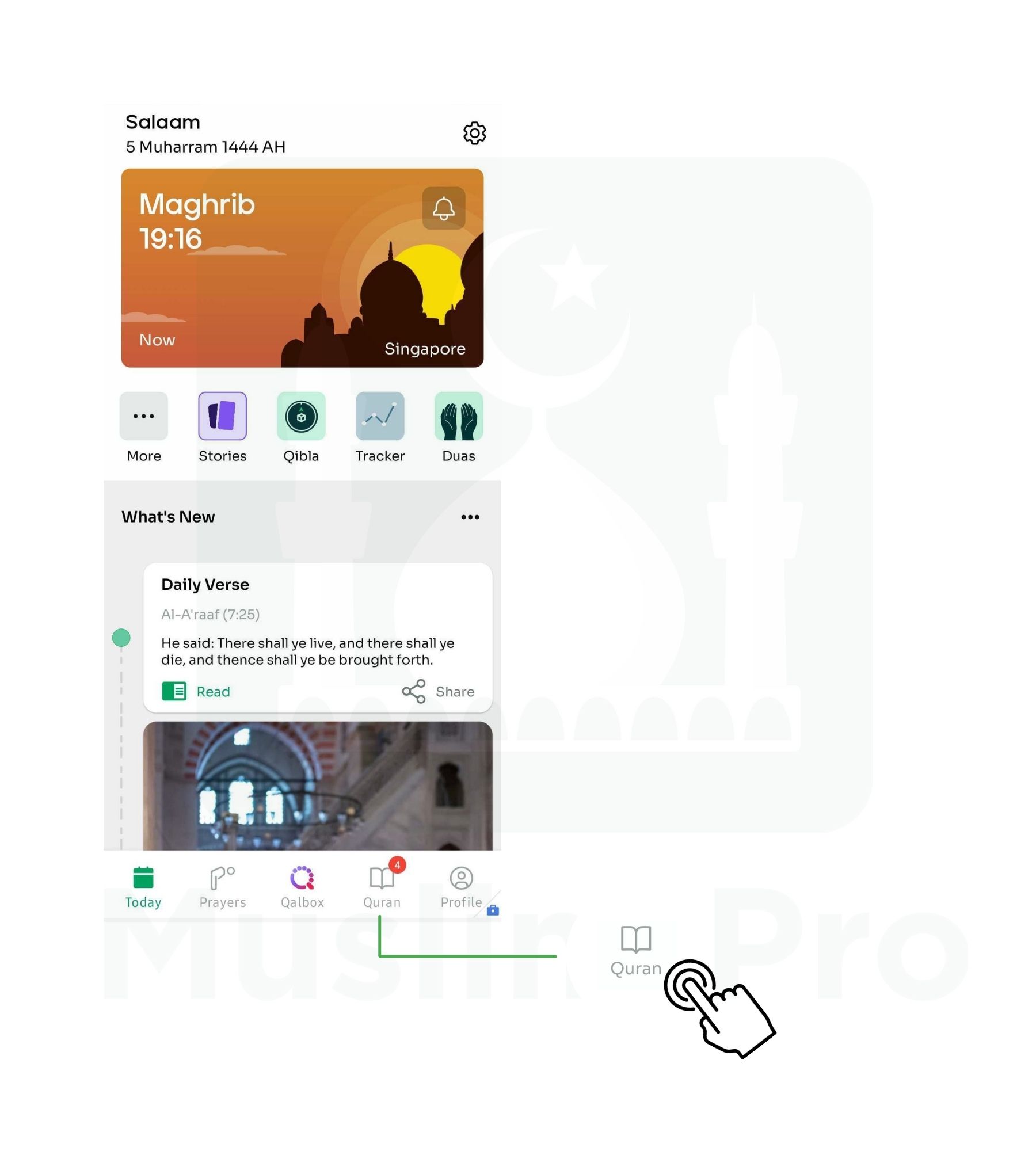 2. Click on the [Settings] located top right-hand corner of the screen.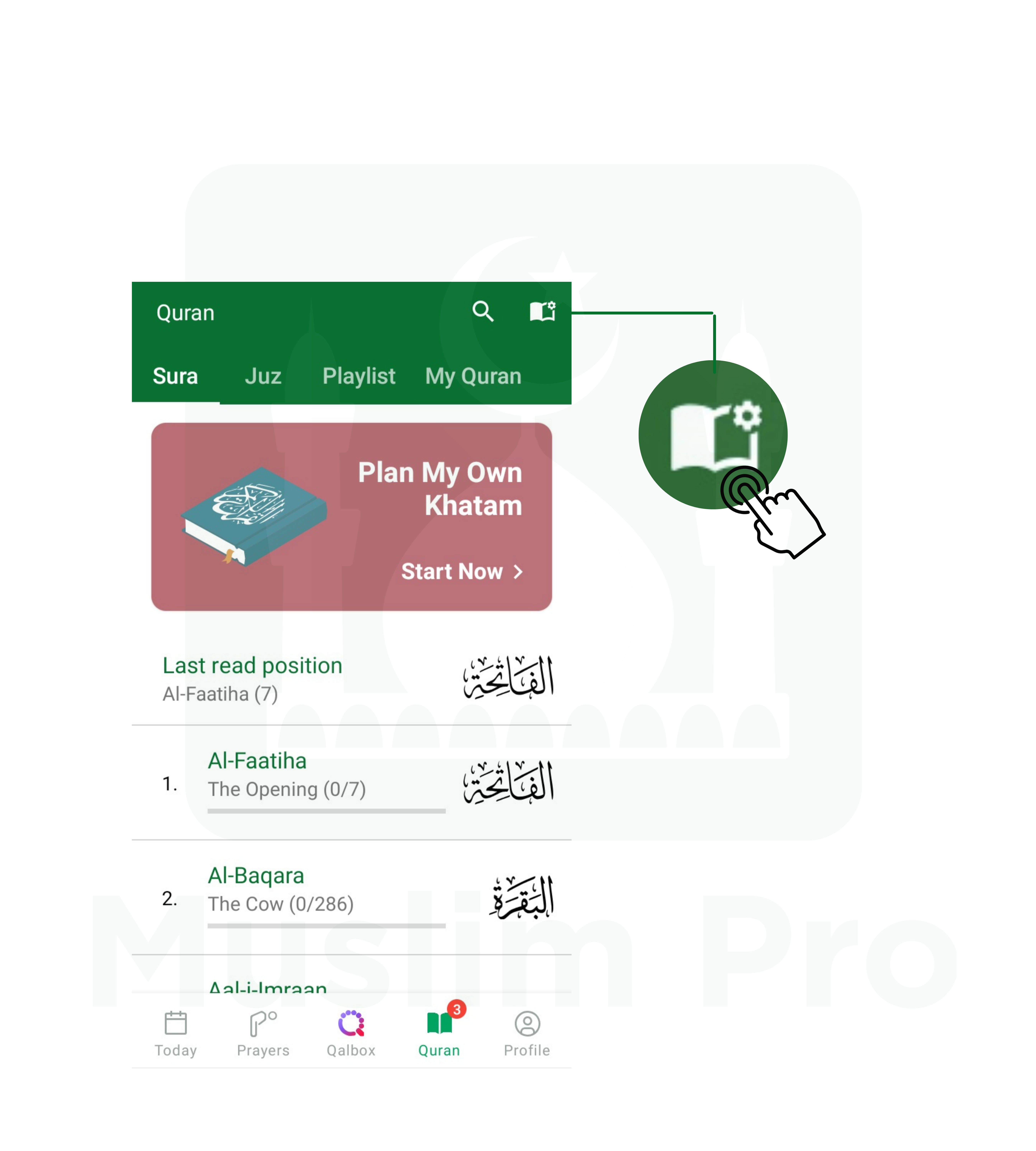 3. Select [Audio Recitation]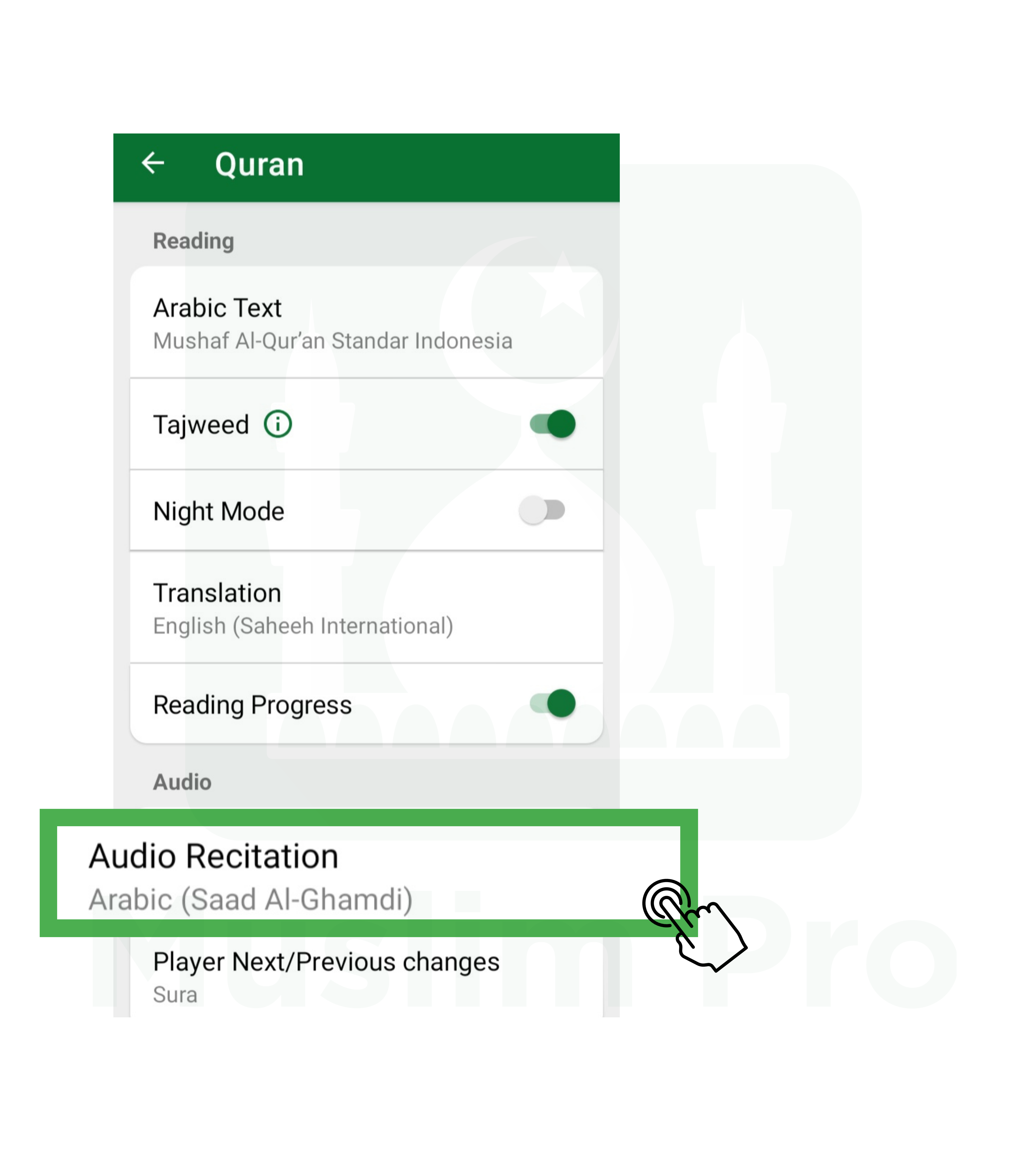 4. Tick the box to select your preferred reciters. Click on the "Cloud" icon to download the recitations on your phone.
You will see the progress of the download.

When the download completes, you may see the cloud icon changes to the bin icon and it may take another few minutes for the application to process the files.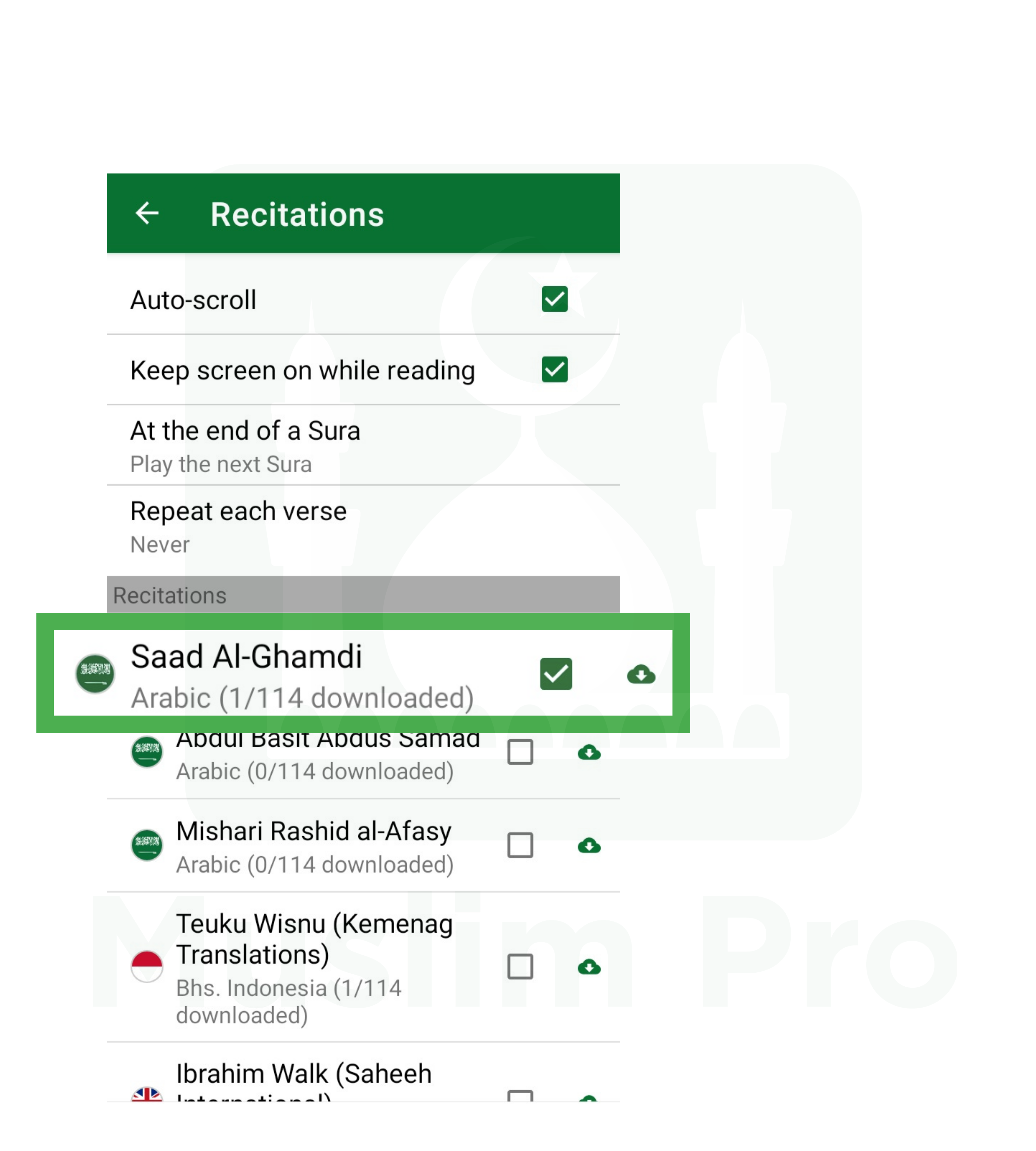 5. Once the download is completed. Go to the Surah and click on [Audio] at the bottom of the page then select your preferred reciter from the list.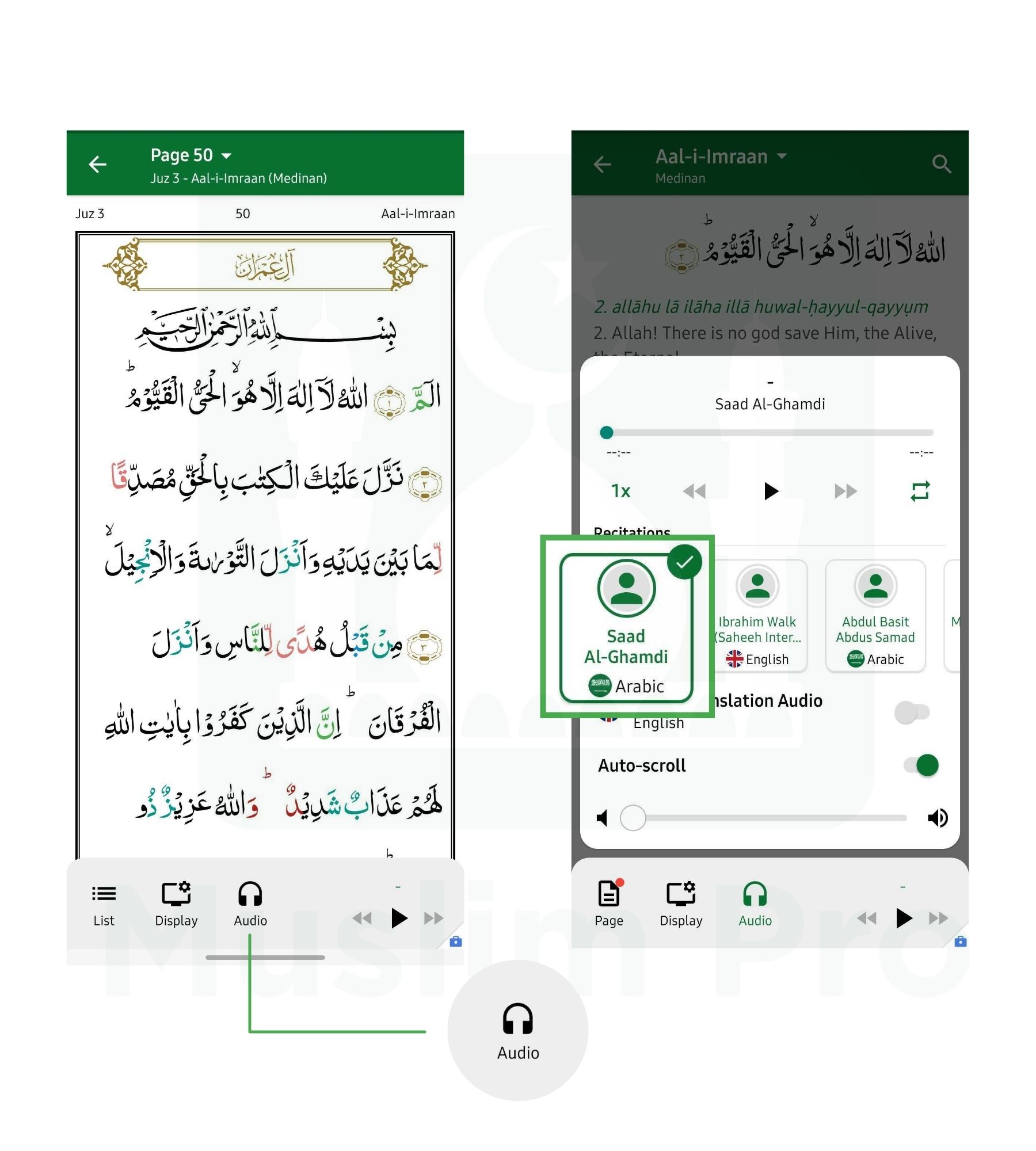 Note:
Additional instructions for iOS users (iPhone / iPad)
iPhone and iPad users may also need to keep their device ON and the app active (running) until the download is complete.
Additional instructions for Android users
The entire Quran should be stored on the internal storage of your device. If it is on external storage, when you connect your device to a computer through the USB port, the external storage gets mounted on the computer and becomes unavailable for apps installed on your device.
Please disconnect your device from any computer (No USB cable between the phone and the computer) and restart the Muslim Pro application.
Should you require further assistance, kindly email us at support@muslimpro.com and we'll gladly assist you.
Read more:
Nothing happens when I try to play the recitations after downloading them.