How to download the recitations of the Quran
The entire audio Quran needs to be downloaded the first time you try to play a Sura. This is a very large download (more than 400 MB) and can take a rather long time to complete.
Please make sure that:
You have at least 400MB of space free on your phone

You have a good Internet Connection (Wifi strongly suggested)

You have enough battery in your phone

You are not connected to a computer with USB (Android only)

Keep your device ON and the app active (running) until the download is complete (iPhone and iPad users only)
Choose a reciter
In order to download the recitations, select the reciter of your choice (there are three reciters available: Saad al-Ghamdi, Mishari Rashid al-Afasy and Abdul Basit) from the audio playback option page which you can access via the play or option buttons at the bottom left and right of any Sura page.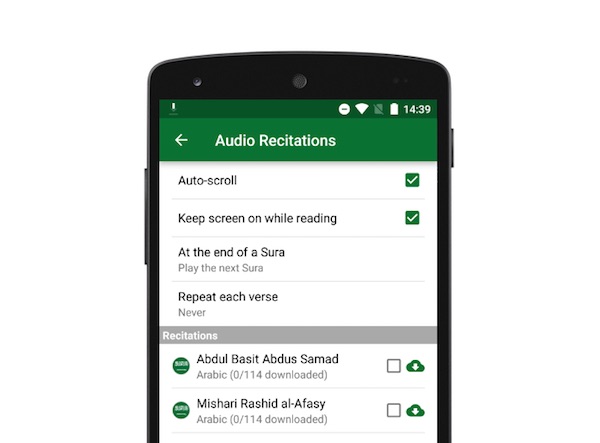 When the download completes, it may take another few minutes for the application to process the files.
Additional instructions for iOS users (iPhone / iPad)
iPhone and iPad users may also need to keep their device ON and the app active (running) until the download is complete.
Additional instruction for Android users
The entire Quran is stored on the external storage of your device. When you connect your device to a computer through the USB port, the external storage gets mounted on the computer and becomes unavailable for apps installed on your device.
Please disconnect your device from any computer and restart the Muslim Pro application.