Muslim Pro is the most popular Muslim application and the leading Muslim lifestyle app with accurate prayer time, azan clock, full audio Quran and Islamic Hijri calendar.
Muslim Pro is recognized by millions of Muslims throughout the world as the most accurate Prayer Time & Adhan application on mobile devices. Muslims will be able to enjoy lifestyle content and practical app solutions that help them practice their faith every day.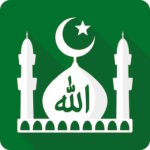 It features the full Quran with Arabic scripts, phonetics, translations and audio recitations.

The app also offers a Qibla locator, an Islamic Hijri calendar, a map of halal restaurants and Mosques, and much more.
Muslim Pro app Features
Some of the features you can get are as follows:
Accurate Prayer time calculator based on your current location.

Adhan or calls for prayer with visual and audio notifications.

The Holy Quran (Al Qur'an) with recitations (mp3 audio), phonetics and translations

Halal restaurants and mosques locations around you.

Animated Qibla compass to show you the direction to Mecca.

Muslim calendar to estimate holy dates such as Eid-Ul-Fitr and Eid-Ul-Adha.

99 names of Allah (Asmaul Husna).

The app and the Quran are fully translated to: Bahasa Indonesia, Bahasa Melayu, Deutsch, English, Español, Français, Italiano, Nederlands, Português, Türkçe, العربية, اردو, русский,简体中文, 日本語, ภาษาไทย.
Where to download Muslim Pro?
The Muslim Pro application is available for both iOS and Android.
You can also check the Muslim Pro website to get accurate prayer times if you don't have a smartphone.