If you still have an active Premium subscription with us, you do not need to purchase a new subscription to have access to our Premium features in the app or to access your Premium in another device. You will either need to:
1. Log in with the same Muslim Pro account that you've tied your Premium subscription with on the different devices that you'd like to have access to Premium.
or if the step above does not give you access to Premium
2. You will need to restore your Premium purchase (applicable mainly to our legacy Lifetime Premium users)
Restoring Premium purchase and creating a Muslim Pro account
Legacy Lifetime Premium users will need to create a Muslim Pro account and restore your Premium purchase from the app store that you initially purchase the Premium version before using it across other devices.
For example, if you have originally purchased the Lifetime Premium on the Apple App store, you will need to restore your purchase from Apple App store first and tie it to a Muslim Pro account. Once you have created the Muslim Pro account, you can then log in on Muslim Pro and use your Lifetime Premium purchase not only on your current Apple device but on your Android device.

Follow the steps below to restore your Lifetime Premium purchase or an active Premium subscription:
Kindly ensure that your device is currently logged in on the same Google Play store account or iTunes App store account that you used to purchase the Premium





Download the latest Muslim Pro version update on the respective app store of your device and launch the Muslim Pro app.




On the Home Page, click on [Go Premium] on the top left hand corner of the Home Page to go to the Premium page.


Click on [Tap to Restore]



Create a new Muslim Pro account or link an existing Muslim Pro account to tie in your Premium purchase. You can create a Muslim Pro account by either linking your social accounts (Facebook or Google), mobile number or create a password for an existing email address. Proceed to signup or login.





*For users who are restoring the Premium purchase on an Apple device, you may be asked to verify your Apple ID account. Kindly enter your Apple ID that you use to purchase the Premium version.





If the restore is successful, you will now have access to our Premium features.
Accessing your Premium on other devices
Now that you have created a Muslim Pro account that is tied to your Premium purchase, you can now log in on other devices (Android or/and iPhone) with the same Muslim Pro account to have access to our Premium features. You can connect a maximum of 5 devices at a time with the same Muslim Pro account.

This will also apply to situations such as:
Bought a new device (Android or iPhone)

Uninstall and reinstall Muslim Pro on your device

Factory set your device which may cause Muslim Pro to be uninstalled in your device
With the launch of Qalbox, our new global subscription video on demand entertainment streaming service in July 2022, with one Premium subscription, not only will you get to enjoy our Premium features in the Muslim Pro app but you will also have full streaming access to videos in Qalbox.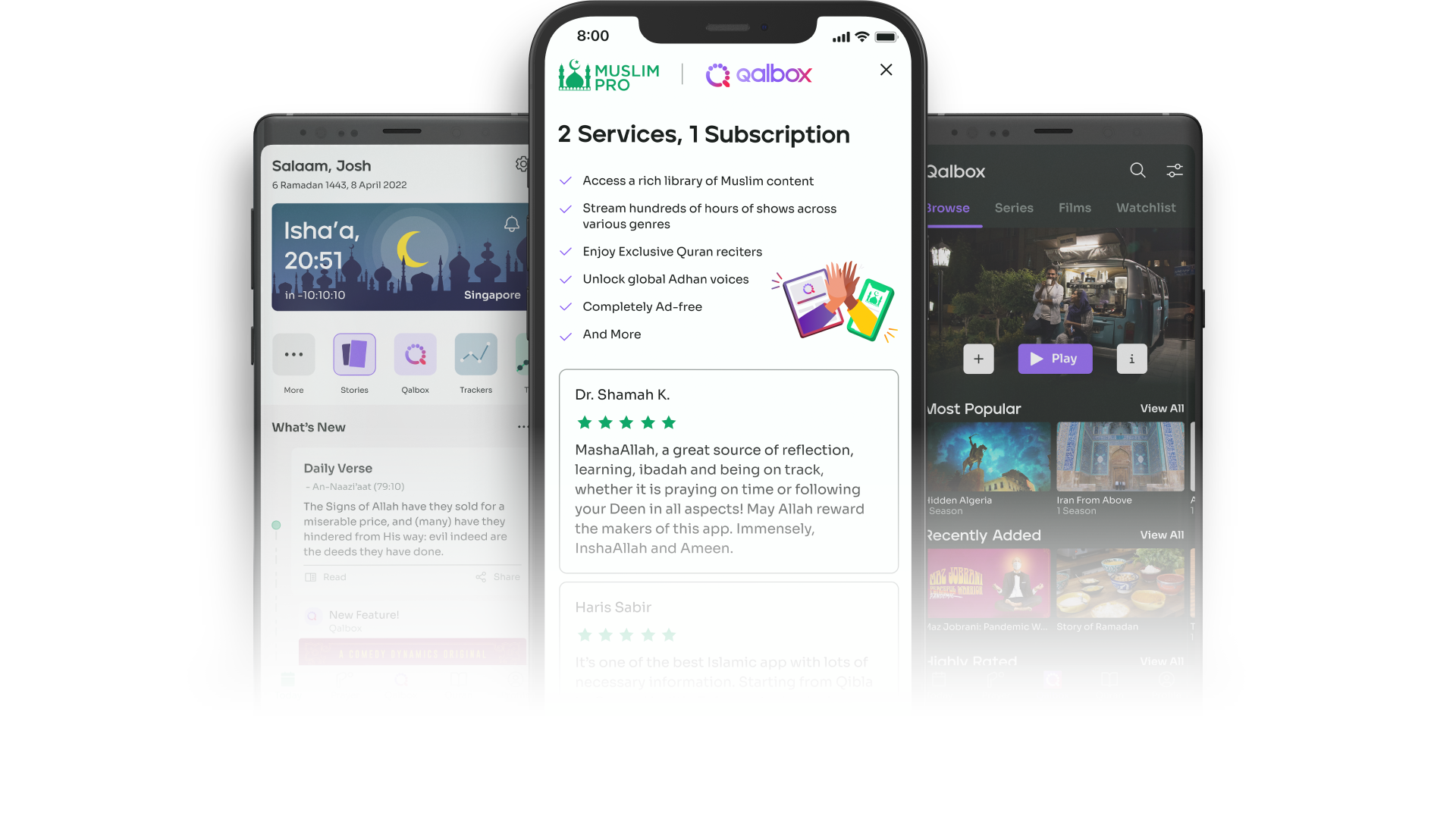 However, for existing Muslim Pro Premium users including our Legacy Lifetime Premium users, do note that you will need to upgrade your existing Muslim Pro Premium subscription to have full streaming access to Qalbox.
Should you require any assistance, kindly send us an email at support@muslimpro.com and we will be glad to assist you.